Your trusted solution partner !
Advanced Services offers residential and commercial heating and A/C repair, installation and maintenance in Kuwait. we count on reliability, integrity, and quality work.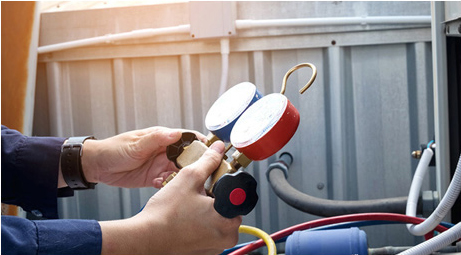 Here the importance of HVAC comes
Heating, ventilating and air conditioning – HVAC in fact has revolutionized our lives in a greater way. It has become an important part of commercial and residential structures such as hotels, hospitals, skyscrapers and other living facilities, where it ensures a comfortable thermal comfort and quality using fresh air from outside. A good heating and air conditioning facility is a necessity particularly in a working environment, where one can keep performing at the highest levels all days and years to come. A good and reliable HVAC company can offer the service and solution in accord with the enterprise requirements. If you need the service of an experienced HVAC provider in Kuwait, look no further than the "Advanced Services". At Advanced Services, we can plan, design, install, repair and maintain HVAC systems for enterprises looking to install commercial air conditioning units
You have reasons to choose us for your air conditioning needs – we have the expertise to combine the three key functions -heating, ventilating and air-conditioning perfectly. We are blessed with experienced HVAC professionals who carry out the job of any project size in compliance to the industry standards. The services and installation are offered at really competitive prices. With the reliable services, we are proud to have the reputation as the most trusted HVAC providers in Kuwait.

HVAC Repair and Maintenance
Repairing and maintenance of the systems is no more a complex task with us. We simply make you feel relaxed with our prompt solutions. By our service, you realize that the repair and maintenance is carried out perfectly with top quality systems and professionals. Our consultants will help you to assist you for any HVAC plan that is to be designed for your commercial or residential structure. So get the benefits of best solutions from the leaders in HVAC installation Kuwait. We provide 24/7 support as well to our customers.

If you want to make a new installation or need a repair or maintenance on the existing system, contact us now. With our guaranteed service we ensure that you get the most of your HVAC unit. Advanced Services has got you covered for all your HVAC needs in Kuwait. It all comes to the fact that a perfect working system is inevitable for your well-being and day to day comfort. Our experts are certified and trained to provide a quick resolution to any of your HVAC needs. It will be good to know that you are taking care of  your investment by scheduling a maintenance with us. 
One stop destination for all your HVAC needs in Kuwait – HVAC Design, installation, maintenance and repair. 
From design to installation and maintenance, we offers complete elevator solutions to commercial and residential projects.
Plumbing & Electrical service is at your disposal. With professional staffs, we carry out the job in challenging environments.
Advanced Services offers, wide range of fire-preventing and fire-fighting equipment for commercial and residential buildings.
We provide comprehensive home warranty protection to customers across Kuwait through various warranty plans.
We offer customers with service contacts of varied types so they can choose the type of service they want. Choose the suitable contract.
Still Have Some Questions Left?
Call Us For A Toll Free At 1808040