Preventive maintenance helps to prevent the equipment downtime and expensive costs incurring from any unforeseen failure. It actually needs careful planning and maintenance schedule before the onset of any mechanical problems. It also includes keeping accurate records of past inspections and reports. It is somewhat a complex task for companies with a lot of equipment. For this reason, many companies rely on maintenance companies to help organize and carry out all their preventive maintenance needs.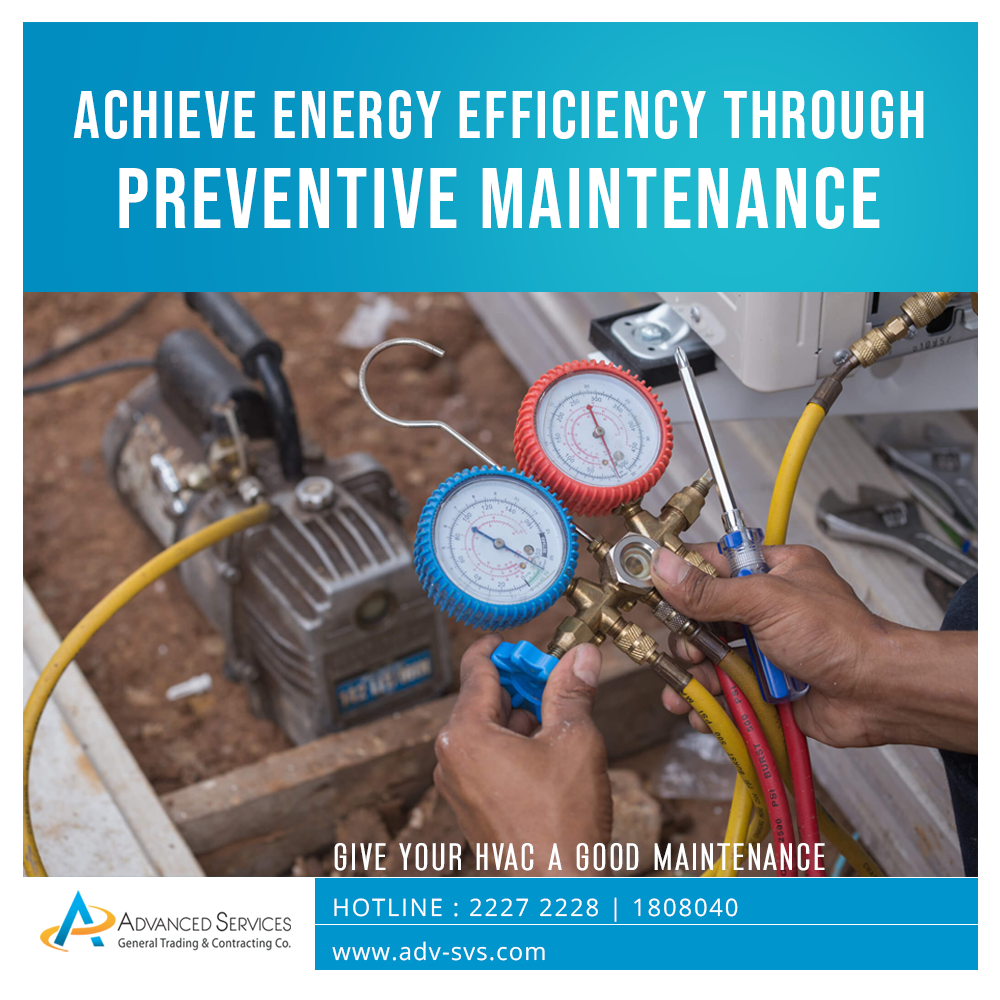 A strong maintenance program is a must – not an option.
Like you plan a maintenance schedule for your equipment, it is important to fix preventive maintenance for your HVAC unit. Imagine how difficult the circumstance would be, particularly in the Middle East climate, if your HVAC suddenly cease to function. And imagine working in an office that lacks proper ventilation and air circulation – a condition that is uncomfortably hot in the summer, and frosty and complete cold in the winter. No one would like to work under these conditions.
Since these systems are the primary facilities in a commercial or residential space, a strong HVAC maintenance program is inevitable.
Your HVAC maintenance provider will schedule a perfect program for preventive maintenance. Moreover, they provide you the proposal for the steps that needed to be taken for the downright maintenance of each unit of your HVAC.
Repair or replacement
In any system's life cycle, there comes a point where you need to decide if it is practically feasible to continue maintenance for a deteriorating piece of equipment. The HVAC maintenance provider will do an analysis of these and confirm if the repair or replacement is the best option.
Though the parts are required to be replaced gradually, following a strict, and comprehensive maintenance schedule will extend the life of your building's HVAC unit. With proper and strict maintenance, you actually are saving a lot on your energy bills and creating a proper comfort to the occupants.
Where should I start?
It's a good idea to rely on an HVAC company to check and do maintenance on the heating, ventilation and Air conditioning system every quarter of the year. They'll do things like inspecting and clean the wiring and mechanisms of the unit, which is a bit more challenging for an individual or a company.
Here are some benefits you get with the preventive maintenance:
– Prolonged life of HVAC equipment
– Less downtime caused by equipment failure
– Less unnecessary maintenance and inspections
– Fewer errors in day-to-day operations
Improved reliability
Fewer expensive repairs
Reduced risk of injury
When it comes to preventive HVAC maintenance in Kuwait, you can depend on the services of Advanced Services. They are proficient in offering downright HVAC solutions including the HVAC designing, installation, and maintenance. Investing in their maintenance services is worthwhile for the enhanced functioning of your HVAC.